KØB BILETTER TIL #MoWP19
Årets #MoWP19 sker i Århus d. 29/11 2019!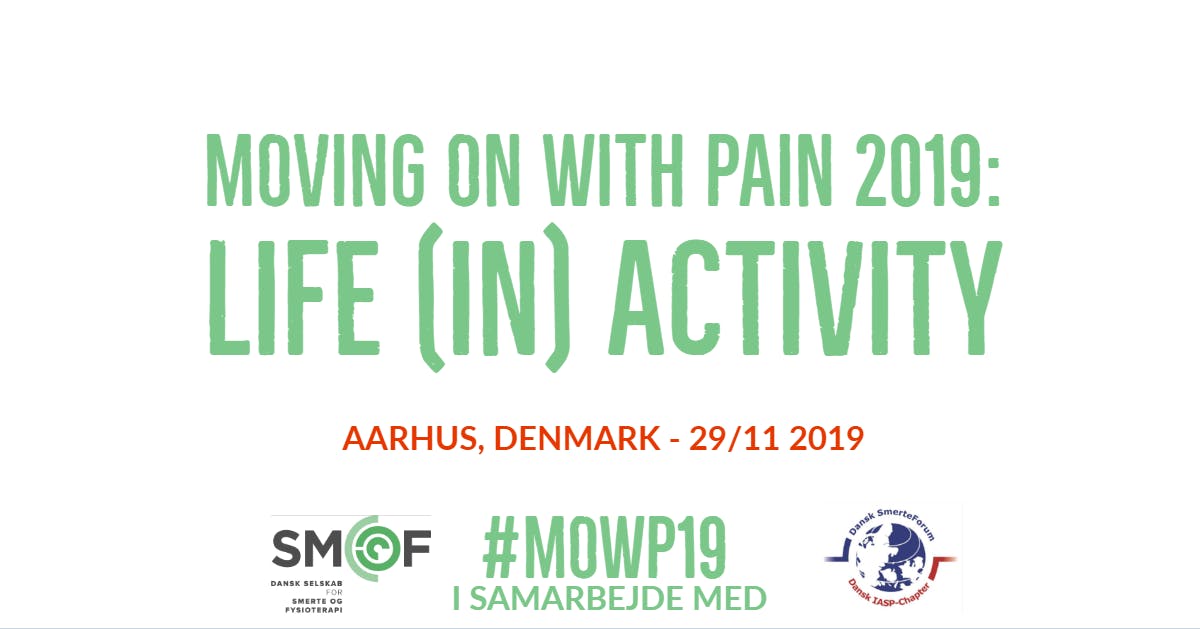 Du kan læse meget mere om programmet og finde billetsalget her:
https://billetto.dk/e/moving-on-with-pain-2019-life-in-activity-billetter-379659
Welcome to #MOWP19!
2019 is the 10-year anniversary for the Danish Society for Pain and Physiotherapy, and this year the symposium is organised in collaboration with the Danish Pain Forum.
Our symposia focus on bringing evidence from basic and clinical science on pain and neuroscience to clinicians who work clinically with patients in pain. A 'Moving (on) with Pain' symposia provides opportunities for clinicians to learn from World-leading researchers and to discuss the relevance and implications of research findings for clinical practice. Also, the symposium is a way for scientists to understand the clinic and the questions driving clinicians towards more evidence-based practice. Participants come from all professions and is open to the public. All talks are moderated and speakers are asked to relate their findings to the clinic and to discus limitations of their results.
This year participants can expect to understand basic mechanisms of how activity and inactivity can relate to prevention and management of pain as well general health in the first part of the symposium. In the second part focus is on how to implement physical activity into clinical practice and what to pay attention to when implementing physical activity into management of pain and health.
The preliminary program contains these speakers:
Prof. Bente Klarlund, DK
Prof. Marie Bement, US
Prof. Jan Hartvigsen, DK
Ass. Prof. Michael Rathleff, DK
Ass. Prof. Henrik Vaegter, DK
Dr. Nicole Andrews, AUS
Dr. Morten Hoegh, DK
All talks will be in English.
If you have issues regarding payment with EAN-numbers, please contact hbv@rsyd.dk.